As the year draws to a close and winter engulfs the landscape, the valley shrouds itself in a thin snowy blanket glittering under the diffused rays from the seemingly distant tiny sun. The forested slopes are dotted by trees with gaps just big enough to peek at the imposing mountain slope in the distance. The lull of the forest is rhythmically interjected by the sound of birds tweeting and the ferocious howling of frosty wind that periodically itches to express its dominance over the seemingly overburdened trees. This annual orchestra was rudely interrupted by a small group waving the Imperial flag with feet plopping in and out of the snowy envelope to a beat of their own. This wasn't usual, the weather and the celebrations all over the Empire that accompanied this time of the year, meant that the Imperial entourage was out of place. The imagery, the weather and even the much awaited holidays didn't seem to be on the party's mind, for their path was straight and their faces resolute. Their heads, like Arjuna's eyes, were focussed only on the mission. Somewhere nearby, hidden by the picturesque beauty, hid insidious evil lying in wait. Cowardly and sinister, it sat crouched and patient, accumulating the wherewithal to spoil the festive season on New Year's eve. Her Majesty, however, wanted to send him a "gift" with best wishes of the Empire as well. It was a simple objective and the Entourage had no intentions of messing it up.

Lords and ladies, New Year holidays and the festivities that come with it are upon us. However, the mean-tempered and treacherous Grinch with his Army of Cold, would also be waiting to strike with his usual sinister intentions. Fortunately, Empire's sophisticated intelligence network has located the villain's lair and the warlords have planned a surprise attack. But this is no regular battle. The Grinch is known to use guerrilla tactics and the sight of large armies would cause him to flee. To deal with that maniac and his followers, Imperial warlords have suggested the use of small detachments of followers that accompany Empire's brave heroes.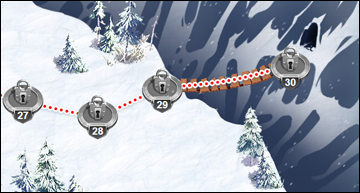 Combat instructions:
- All heroes of the 5th combat level or above are allowed to take part in these fights;
- Only stacks of units from Leaders' Guild training and accomplishments can be used;
- Limits on units and stack sizes apply as per the level conferred by Leaders' guild;
- Battles do not involve the hero. Artifacts and talents have no effect, as a result. Auto-play can be enabled after troop settlement;
- Heroes do not gain experience or faction skill points. Artifacts do not lose durability;
- There are 30 main and 20 additional levels. The composition and number of enemy units at each level will be the same for every hero;
- At level 30, intelligence reports claim that heroes will meet the Grinch in its lair;
- Victory at each level grants a valuable reward which depends on the level;
- On day one, only 10 levels of difficulty are unlocked. 10 more levels will be unlocked every day since;
- Heroes of successful military clans who distinguish themselves will be given special rewards. Rewards will be based on the overall clan ranking. Clan rank will be based on overall score which is the sum of each clan member's score. Each hero's score is equal to the sum of the levels which the hero has been victorious in (for example, victories at levels 1, 2 and 3 grant a hero 1+2+3=6 points). Victories at additional levels count as well;
- Clan members' score will contribute towards the clan score if they contribute at least 15 points to the clan;
- If the hero is evicted or leaves his military clan, the clan would lose his contribution to the score. If the same member re-joins, the lost points are returned;
- This event will last 10 days. January 3 will be the last day;

[Information] For those who joined/changed/planning to change their battle clan during the event, battles for which points were not added to clan score will have to be replayed to contribute the corresponding points towards the clan. The reward for previously completed levels will not be given again. The "Reset" button will appear for those heroes who have not contributed the maximum possible clan points.

Moreover, Warlord Grammith has announced support by provisioning both common and uncommon stacks of followers which all heroes can have the option of leading in exchange for gold. Heroes also have a one-time option to lead Leprechauns, Silver pegasus and Medusa Queens.

Empire is counting on it's brave heroes for the success of this operation, and hence, every third win will grant 1 part of Imperial Sword. No more than 10 parts will be given cumulatively.



All heroes who are victorious at level 15 will receive a special achievement visible on their profile.



Reward for heroes of leading combat clans:


| | | |
| --- | --- | --- |
| Clan place | Reward | Battle glory |
| 1 | 10 | 1,500 |
| 2 | 9 | 1,300 |
| 3 | 9 | 1,100 |
| 4 | 8 | 1,000 |
| 5 - 7 | 7 | 900 |
| 8 - 10 | 6 | 800 |
| 11 - 15 | 5 | 600 |
| 16 - 20 | 4 | 500 |
| 21 - 30 | 3 | 400 |
| 31 - 40 | 2 | 250 |
| 41 - 50 | 1 | 100 |
May you bring glory to Empire!