The details of the first meeting between the empire forces and the dwarfs of the Fire clan haven't disappeared yet as several fighting ship under familiar banners heaved in sea sight. Soon the first ultimatums from the unwelcomed quests were addressed to only one person – to the dwarf leader Tolgar. Despite all warnings of the guards, in the end he agreed to accept enemy delegation.

Having marched proudly on the central street of the Port City, without any welcoming ceremonies the well-armed group of dwarfs practically rushed into the city town hall. Then their gray-haired commander came forward and said:

-Runaway stone king! Tolgar, you son of a dog! For the name of the Fire King Lotgar, I, admiral Rigg the Ardent sail, accuse you of kidnapping the crown prince Albrecht! Therefore, I command you to surrender immediately and be convoyed to the Royal Court.
-Impudent slander! - Tolgar himself sharply objected, and Admiral of the fire clan reddened with anger and grasped a handle of the hammer.
- You, piece of bear's…
-Enough! – someone's imperious voice came from the dwarf ranks and interrupted Rigg, drawing everyone's attention.
-Who dares?! – said admiral in rage, slowly turning at the soldiers with a severe look.

A moment later one of the flame priests, differing from the others in the existence of an unusual fighting mask, under the alerted views of his fellows, came forward slightly limping and under general astonishment uncovered his face. Majestic profile, long fair hair, magnificent beard and absence of wrinkles – this dwarf looked too young for the priest, and it was impossible to mistaken him for somebody else.

-Prince Albrecht? – admiral Rigg's eyes extended out of surprise, and the severe grimace faded away, - But,… How?... Where?...
-Forgive me this deception, old friend. I got into ranks of your team with a group of mercenaries at the Burned Coast of the fallen Empire. And if revealed myself at once, I would have already listened to my father's morals and could hardly meet my beloved uncle once again, - the prince finally looked at speechless Tolgar and spread his arms in a welcome gesture.
-My boy, - at last broke from Tolgar's lips – and he rushed towards his nephew, gripping him in strong welcome embrace. – It's been a long time! To tell you the truth, I thought you died in that bloody storm…
Albrecht laughed, - Your thoughts are not far from the truth.

These words suddenly caused a certain sinking feeling deep down in Dwarf Leader's soul, and his eyes just now noticed that prince face was paler than ever and the color of his hair and beard lost their former nobility, having become silver-white.

-I see, years fairly frayed you, - Tolgar said again.
-You can't even imagine! But later about it… - Albrecht laid his hand on uncle's shoulder, pulled him aside and lowered his voice, - these bandits behind my back showed up here to kick your old ass, but, as you can see, I slightly messed with their plans. It would be good to give them a chance to let off steam before they start smashing local taverns, - he winkled.
-Hm, there is one fellow here, voivode Grammit. He just conceived,- passing to whisper, - to arrange a secret raid on local rabble. I think I can make a deal.
-Well, that's good, - a smile appeared on Albrecht's face, - I have to tell you so much… I'm so happy to see you! – prince again gave his uncle strong and emotional embrace.

To tell that dwarfs' diplomacy is a strange thing is not to tell anything. However, not all the witnesses were captured by the dwarf's "charm". In turmoil nobody noticed the silhouette of the mysterious spy-girl, hurrying to her dark master with a report.

Lords and Ladies. Yesterday's enemies from the Fire Clan suddenly became our dearest guests. And while the negotiations with their leaders are in process, voivode Grammit doesn't want to miss the opportunity to see the potential allies in the upcoming raid on the smugglers' harbor to stop the illegal trade between robbers and pirates. Therefore, voivode calls upon all of you to be a part of this good cause, However, without your personal armies and just in case,.. don't tell the Fire Clan dwarfs all your combat secrets.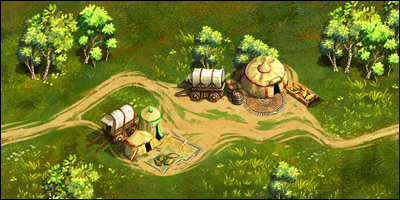 Battle instructions:
- All players of combat level 5 or above are invited. Only 'shop artifacts' are allowed, and artifact enchantments have no effect;
- All battles are 1v1 PVE;
- Magic and fracture don't work;
- Talents work, magic skills are not recommended for choosing;
- The initial army is the same for everyone;
- Silver taken from the enemies can be spent for hiring new troops form the reserve of Fire Clan;
- The hiring troop reserve increases after each level;
- The amount of silver depends on the defeated opponent's difficulty level;
- At each difficulty level there will be a choice up to four opponents; each can be defeated only once;
- Special attention should be payed to the armies of each combat level 5 – there were noticed some dangerous leaders;
- There is main reward at combat level 50, combat levels 51-60 are bonus levels with some small rewards and one choice of opponent;
- The campaign will last 8 days, until April 1;
- On the first day, you can descend to a maximum 10th level of difficulty of the tomb. Every next day, 10 more subsequent levels will be available;
- During the campaign, you can fight at the already completed difficulty levels and get silver, if necessary;
- For defeating the enemy, Heroes can get points of the Mercenaries Guild, gold, creature armaments, diamonds, creatures in reserve, parts of creatures in reserve, and even parts of the Imperial dagger, but no more than once at each difficulty level;
- The best 50 combat clans and all active Heroes will receive a special award. Rewarding will be based on the final rating of the clans, where the final result will be equal to the sum of the maximum difficulty levels won per clan by all the Heroes of the clan;
- Unblocked Heroes of successful combat clans will receive a clan reward if they bring the clan 15 points or more;
- If the Hero leaves/is excluded from the combat clan, the clan loses all points scored by the Hero for this clan; upon re-entering, the points will be recovered;
- The Empire will additionally award Heroes and all those who will win at the 10th level of difficulty with a memorable artifact and achievement. The strength of the artifact will depend only on the maximum defeated level of difficulty;



During an event, Heroes will be able to receive up to 45 parts of a Imperial dagger and up to 10 parts of a Imperial ring, if their combat clan takes the top place!





Reward for active Heroes of leading battle clans:


| | | |
| --- | --- | --- |
| Clan place | Reward | Battle glory |
| 1 | 10 | 1,500 |
| 2 | 9 | 1,300 |
| 3 | 9 | 1,100 |
| 4 | 8 | 1,000 |
| 5 - 7 | 7 | 900 |
| 8 - 10 | 6 | 800 |
| 11 - 15 | 5 | 600 |
| 16 - 20 | 4 | 500 |
| 21 - 30 | 3 | 400 |
| 31 - 40 | 2 | 250 |
| 41 - 50 | 1 | 100 |