A cannonball blizzard, a ramming maneuver, a boarding - and another Imperial merchant ship went to the seabed. It seems that some of the defenders thought the face of the pirate captain was painfully familiar, but these poor fellows will now be able to share their guesses only with fish - and they know how to keep secrets like no other. It was one of the few black pages in the Empire's history, but its spirit still remained unbroken. Despite all the tricks of the enemy, the Mixed Tournament was not cancelled - and its triumphs did not remain without well deserved rewards. Well, the insidious pirates will certainly bear responsibility for all their violence, to the fullest power of imperial law!

Soon enough, every Lord and Lady who agreed to strike a deal with pirates and left the shores of the Empire, still received the gift promises by Captain Red Beard.

"Do not stop me in surprise, land rats, but I keep my word! From me a trunk with gold is commensurate with the level of chaos achieved, and also pieces of a diadem seized during the raids - maybe you'll figure out what to do with them. And of course a small present from my personal collection, that this raid might be remembered for a long time."
- Captain Red Beard.

All Lords and Ladies who have plundered even a little silver can receive a generous reward in gold! Your reward depends on the amount of silver plundered and your combat level. Gold is issued on the Pirate raids event page.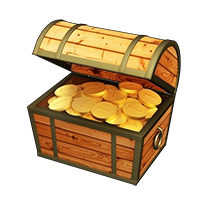 All Lords and Ladies who have plundered at least 3,000 silver were rewarded with parts of the Heaven diadem from 1 to 30 pcs. The number of parts depends on the amount of silver looted.





All Lords who have plundered at least 4,000 silver were rewarded unique artifacts from the Ocean set. The artifact durability depends on the amount of silver looted.







The names of the top 100 pirate Lords and Ladies will forever go down in history and become legends of all seas and oceans:




| | | | | |
| --- | --- | --- | --- | --- |
| 1. | Similar [15] | 105 | 84 | 120,543 |
| 2. | Àëåêñàíäð - [10] | 125 | 84 | 120,534 |
| 3. | Marquis Thornwald [10] | 121 | 84 | 117,597 |
| 4. | Lord Ragnaros [18] | 109 | 84 | 114,691 |
| 5. | Êîæàíîå_ëèöî [21] | 114 | 84 | 114,205 |
| 6. | ÃàëêàÒ [15] | 120 | 84 | 114,097 |
| 7. | Ãàðìèíãîëüä [15] | 98 | 84 | 113,849 |
| 8. | ÌèËËèîíåðÚ [15] | 93 | 84 | 112,818 |
| 9. | _lordhero_ [15] | 117 | 84 | 112,580 |
| 10. | Bear Grizly [12] | 121 | 84 | 112,335 |
| 11. | ReZero [17] | 120 | 84 | 112,327 |
| 12. | Wild Death [15] | 124 | 84 | 111,447 |
| 13. | Diospyros [17] | 102 | 84 | 111,125 |
| 14. | Âëàäèìèð [22] | 117 | 84 | 111,011 |
| 15. | a_yakovin [14] | 97 | 84 | 110,854 |
| 16. | Svoi [18] | 117 | 84 | 110,131 |
| 17. | tell [16] | 100 | 84 | 109,623 |
| 18. | Avaro [18] | 96 | 84 | 108,880 |
| 19. | krovak [17] | 124 | 84 | 108,645 |
| 20. | Ãëàâíûé ñêåëåò [19] | 125 | 84 | 108,233 |
| 21. | Òåððîð666 [18] | 117 | 84 | 108,109 |
| 22. | Black-eyed [19] | 102 | 84 | 107,804 |
| 23. | gangalo [19] | 101 | 84 | 107,655 |
| 24. | Scarlet_ [15] | 106 | 84 | 107,644 |
| 25. | Starshina214 [22] | 102 | 84 | 107,638 |
| 26. | z_j_cd [18] | 92 | 84 | 107,478 |
| 27. | emptimd [13] | 113 | 84 | 107,458 |
| 28. | Ìåäîâûõà [20] | 126 | 84 | 107,223 |
| 29. | EagleEye [14] | 113 | 84 | 107,036 |
| 30. | ProZyk [17] | 121 | 84 | 106,993 |
| 31. | de Valios [13] | 124 | 84 | 106,790 |
| 32. | Çîòç [22] | 94 | 84 | 106,531 |
| 33. | -Äåíèñ [13] | 121 | 84 | 106,244 |
| 34. | Super-Dragon [17] | 117 | 84 | 106,176 |
| 35. | Âå÷åð [17] | 111 | 84 | 106,163 |
| 36. | Orkan [18] | 112 | 84 | 106,142 |
| 37. | Ignis aurum probat [12] | 119 | 84 | 105,864 |
| 38. | Ãëàøêà [20] | 107 | 84 | 105,566 |
| 39. | nikola_ [20] | 99 | 84 | 105,549 |
| 40. | -D-R-A-G-N- [19] | 120 | 84 | 105,522 |
| 41. | Ãîðíûé Ìñòèòåëü [17] | 120 | 84 | 105,175 |
| 42. | ÀËêîíàôò_ [17] | 117 | 84 | 105,127 |
| 43. | grif [18] | 119 | 84 | 105,076 |
| 44. | Fall1n [16] | 126 | 84 | 104,653 |
| 45. | Samson [19] | 108 | 84 | 104,330 |
| 46. | GRIZZLY777 [21] | 96 | 84 | 104,140 |
| 47. | polivan [12] | 120 | 84 | 104,065 |
| 48. | SilentGuy [17] | 112 | 84 | 104,043 |
| 49. | arantir969 [20] | 105 | 84 | 103,416 |
| 50. | Colossus Rhodi [16] | 126 | 84 | 103,335 |
| 51. | _ÑÅÐÛÉ_ÂÎË×ÀÐÀ_ [21] | 113 | 84 | 103,258 |
| 52. | JoKeR2503 [20] | 122 | 84 | 103,243 |
| 53. | Roollo [20] | 117 | 84 | 103,217 |
| 54. | Ëþáîâîä [18] | 103 | 84 | 103,112 |
| 55. | 13ruga11 [18] | 114 | 84 | 103,071 |
| 56. | asariec [16] | 119 | 84 | 103,036 |
| 57. | MaitoGai [14] | 96 | 84 | 102,892 |
| 58. | 1ÄÑ [14] | 101 | 84 | 102,799 |
| 59. | Qwaster [15] | 108 | 84 | 102,514 |
| 60. | Phoenix333 [20] | 91 | 84 | 102,461 |
| 61. | Astronics [21] | 100 | 84 | 102,442 |
| 62. | --NERE-- [16] | 119 | 84 | 102,407 |
| 63. | Stepnoy_Stepan [17] | 115 | 84 | 102,391 |
| 64. | Mike Bernardo [10] | 105 | 84 | 102,339 |
| 65. | caxiwolf [13] | 121 | 84 | 102,247 |
| 66. | Òðàíñåðôåð [15] | 108 | 84 | 102,244 |
| 67. | creatione [19] | 116 | 84 | 102,237 |
| 68. | bestyomoyo [14] | 114 | 84 | 102,034 |
| 69. | Vladymyrr [13] | 105 | 84 | 102,033 |
| 70. | Ìèõà [20] | 123 | 84 | 102,008 |
| 71. | Ãåëüä [12] | 104 | 84 | 101,970 |
| 72. | Ðè÷àðä Ëåâ [14] | 126 | 81 | 101,900 |
| 73. | RushOnly [15] | 126 | 84 | 101,587 |
| 74. | Ïåñò [14] | 100 | 84 | 101,213 |
| 75. | uzhasnah [16] | 114 | 84 | 101,163 |
| 76. | Galager [15] | 113 | 84 | 101,079 |
| 77. | Dimonius [13] | 102 | 84 | 101,052 |
| 78. | ×åðíîâ_Ñàøà [21] | 116 | 84 | 101,049 |
| 79. | pipec-2 [16] | 112 | 84 | 101,007 |
| 80. | Filipok [20] | 120 | 84 | 100,894 |
| 81. | Nadya2229 [21] | 115 | 84 | 100,815 |
| 82. | pro-kent [21] | 105 | 84 | 100,809 |
| 83. | Azureguy [14] | 105 | 84 | 100,809 |
| 84. | ìíå òóïî ñâåçëî [17] | 96 | 84 | 100,783 |
| 85. | vvvv1111 [19] | 106 | 84 | 100,757 |
| 86. | HapkoFF [20] | 117 | 84 | 100,692 |
| 87. | Prince_Dracula [15] | 108 | 84 | 100,686 |
| 88. | Ààíã [18] | 117 | 84 | 100,654 |
| 89. | Bossyak [21] | 117 | 84 | 100,440 |
| 90. | Ìîðôåé [19] | 120 | 84 | 100,361 |
| 91. | POKERSTAR [21] | 103 | 84 | 100,262 |
| 92. | Íåêðàñëàâ [16] | 120 | 84 | 100,256 |
| 93. | poyk1 [17] | 118 | 84 | 100,226 |
| 94. | Àçú åñìü Öàðü [20] | 104 | 84 | 100,068 |
| 95. | HardForAll [16] | 97 | 84 | 100,004 |
| 96. | -Dendimon- [15] | 110 | 84 | 99,867 |
| 97. | Aen Saevherne [14] | 124 | 84 | 99,331 |
| 98. | ZandragaD [15] | 106 | 84 | 99,311 |
| 99. | Lord Magistrus [19] | 101 | 84 | 99,246 |
| 100. | Dig_Dog [16] | 122 | 84 | 99,118 |