Valiant Lords and Ladies,

The Survival Tournament arena opened its gates for the 200th time! To celebrate this important milestone, we have reduced the entry fee to 0 for this tournament and introduced new creatures never seen on the arena before.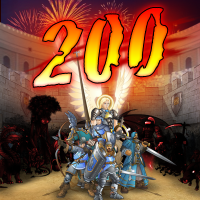 The following changes also affect Survival Tournaments on a permanent basis:
1. The experience-to-skill-points ratio is improved.
2. Reinforcements fight on their own, not controlled by the player.
3. Faction creatures have been added.
4. Potion of Skill may be used.

Enjoy the fighting!