Dear Lords and Laides,

Announcing the special Summer Sale! Starting today and through June 15, buy Diamonds and get +10% for free. But that's not all:
Buy 37 Diamonds or more and get a unique ring FREE!




Even better, buy a total of 185 Diamonds or more while this sale lasts and get a second unique ring FREE!




The unique ring is treated as a shop artifact, and its parameters depend on the wearer's combat level.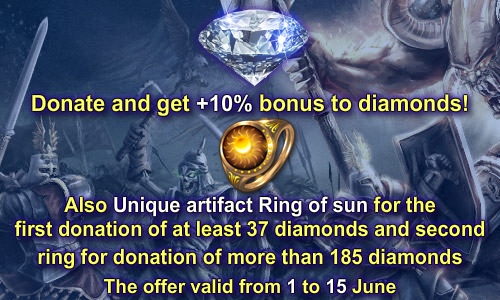 And one more important note. For the last 10 years we've kept Diamond prices the same (in Russian rubles). Unfortunately, the ruble has depreciated a lot compared to other world currencies. The latest teconomical situation has forced us to raise the Diamond price from 27 rubles to 40 rubles, effective July 1, 2017.

Thanks for supporting Lords of War and Money, and have a great summer!