The Empire celebrates Great Feast!For how many years it has lived and thrived to the delight of its subjects and in spite of the enemies. And the glorious Lords and Ladies didnít play the least role in this, whose valor and bravery became the unspoken symbol of its lands. What can we say, if even on this day, when the whole Empire is full of fun, they are no doubt ready to once again answer the call of duty.

Much water has flowed under the bridge since the Ungovernable Steppe recognized the power of the Empire, which forced many belligerent nations to respect it with sword and magic. But the raging blood of the steppe tribes cannot be appeased or pacified by any force, and therefore the struggle for glory and power continues on their lands to this day. Having learned that there was confusion in the domain of one of the leaders, threatening to spread to the neighboring provinces and turn into another copious bloodshed, the voivode Grammite decided to send the brave Lords and Ladies to understand the situation ...

Dear Lords and Ladies! We are pleased to present to your attention the fourth combat campaign! We remind you, that balancing the complexity of battles is no longer affected by victorious battles conducted in ammunition, superior to the one in OA.

And of course, we are pleased to remind you that today our game is celebrating its Birthday - March 1, 2019, we are 12 years old! By itself, this period is already colossal, but we are sure that this is far from the limit - and together we will celebrate more than one anniversary.

We are grateful to all the players who have been with us for many years, and those who have joined us not so long ago, to everyone who helps to develop the project and makes it interesting with its presence. Thanks to ALL OF YOU, the world of heroes is constantly improving and remains a great place to relax. Stay tuned for updates and stay with us - it will be interesting!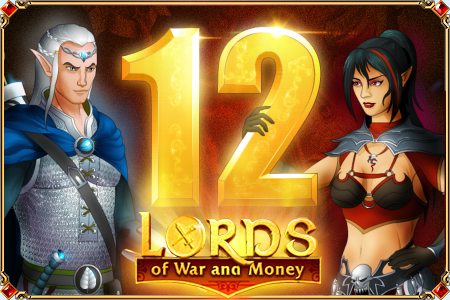 By tradition, the game gives presents on this festive day! And so, in honor of the holiday, from March 1 to March 5 inclusive:

1. Lords and Ladies of combat level 3 or above may claim one of four gifts (hurry to get!):
- Faction skill points;
- Personalized gift artifact;
- a master hunter license for 60 days;
- Abu Bakr's charm for 30 days;
- Random very rare squad GL (6,000 leadership).
The durability of the artifact and the amount of FSP directly depend on the number of days the character has fought battles on;





2. Faction Skill points increased by 20%
3. Bonus + 20% to purchased diamonds;
4. Labour efficiency (including wages) increased by 20%;
5. Lords and Ladies of CL3 and above may claim a free set of warrior or sorcerer shop artifacts for their level, for up to 30 combats and 12 days.
6. "Automatic combat" button for your maximum rest and comfort in all battles except for a mixed tournament and a tactics guild (visible after placing in the lower right corner of the battle);
7. Assignments of the Guilds of Hunters, Mercenaries, Thieves, Rangers 12 times more often;
8. Assignments of the Guild of Guardians increased by 2 times;
9. The speed of recovery of health and mana increased by 2 times;
10. Entry fees to all card tournaments are cancelled;
11. Entry fees to all quick tournaments 1x1, 2x2, 3x3 are cancelled;
12. Quick tournaments will start every 2 hours;
13. For Lords and Ladies of combat level 8 or above the maximum bet in roulette is increased by 3 times;
14. Free energy drink in the tavern;
15. Mixed tournament plus no entry fees, but with special elixirs for 4, 9, 15 wins;







16. Planned attacks on Survilurgs are cancelled;
17. Within 5 days, you can resurrect all previously lost beings of the Guild of Leaders (starting with rare ones);
18. The probability of getting a rare artifact in Chests of abundance is doubled;



And also waiting for you a few new events. In addition to the already mentioned 4th combat campaign



All Lords of combat level 3 can take part in the treasure hunt, and all Lords of combat level 5 should familiarize themselves with the secret letter from the leader of the dwarves Tolgar.







Treasure hunt:



1) To participate in the search you must purchase a treasure map for 100 gold;
2) You can join the challenge up to 10 times a day, unused challenges stack up and may be used on later days;
3) Admitted ammunition: only shop artifacts are allowed, enchanted artifacts have no effect.
4) Duels Ė 1 lord against 1 guard;
5) Your victories can be awarded by gold, creature armaments, rare artifacts with reduced durability, diamonds, chests of abundance, shop artifacts;
6) For each victory, Lords and Ladies will receive one piece of a rare Imperial Dagger artifact;
7) The event will last 5 days until March 5th inclusive.







Clan of Fire:



In the entire holiday bustle, few paid attention to the inconspicuous figure of a gnome wrapped in a dark cloak, deftly slipping between the dense rows of onlookers. Suddenly, when confronted with one of the Lords, he slyly grinned and after only a moment he disappeared into the crowd again. After a couple of minutes, a slightly wrinkled letter with a seal of the gnomes' leader suddenly appeared in the pocket of a magnificent full-length doublet.

"Greetings, Lord! No need for all these courtesies - letís get to the point. My scouts report suspicious activity of some dwarfs on the top level of one of the local dungeons. And everything would be fine, but only they marked the emblems of the Clan of Fire. And it does not promise anything good! Take my word for it! And yes, I know that Grammite is driving everyone somewhere in the steppe, but at the same time I have heard about your leadership qualities. I think that for such a famous Lord it would not be difficult to send a couple of teams of loyal followers to resolve the situation? Would greatly appreciate it.

P.S. Oh yeah, there is still a huge wall the size of ... a huge wall. I donít know why itís there, but it's hard not to notice it - the troops obviously wonít get lost.

Leader of the Dwarfs Tolgar"

Lords and Ladies! The dwarf leader Tolgar, in a secret message, asks to assist him on a very unusual case. He asks the forces of Leaders Guild to deal with the activity of suspicious dwarfs, who are clearly plotting something wrong in the depths of the imperial dungeons.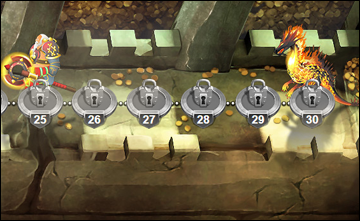 Combat Instructions:
- All Lords and Ladies of at least combat level 5 are allowed to take part in the combat event;
- It is allowed to oppose the enemy only by forces of detachments of its followers from the Leaders Guild;
- Leadership restrictions for each Lord are equal to the limits of his current Guild level;
- Combats take place without artifacts, skills and participation of the Hero himself. After placing the units, if you wish, you can activate automatic combat;
- You will not receive experience and skills in these battles, and artifacts will not wear out;
- A total of 30 main difficulty levels of enemy units, as well as 20 additional. The composition and number of enemy units at each level are the same for all Lords and Ladies;
- The victory over each unit has a valuable reward depending on the level of the unit;
- On the first day, you can fight only with units of the first 10 difficulty levels. Every next day, 10 more levels will be available;
- Successful combat clans and Lords distinguished in them will be especially awarded.
The prize will be based on the final rating of the clans, where the final result will be equal to the sum of the won difficulty levelsfor the clan by all the Lords of the clan (for example: victories at 1, 2 and 3 levels of one Hero will bring his clan 1 + 2 + 3 = 6 points to the final score). Victories at additional levels also count;
- The award will be received by all unblocked Heroes of successful combat clans, if they brought the clan at least 15 points;
- If the Hero leaves / is excluded from the combat clan, then the clan loses all points scored by the Hero for this clan, upon re-entering, the points will be returned;
- The event will last 10 days until 10 March inclusive.

[Information] This information will be useful for those who joined/changed/thinks to change the combat clan already during the event. You have/will be able to replay those battles where no points were obtained for the combat clan. The reward for already completed levels of difficulty will not be charged. Replay those battles where points were obtained will not be required. The button "Reset" will appear in those Heroes of combat clans who scored not the maximum possible clan points at the current difficulty level.

In addition, the leader of the dwarfs, Tolgar, is ready to provide the Leaders Guild with his support in the form of issuing ordinary or rare troops for gold. Moreover, one-time hiring of Leprechauns, Silver Pegasuses and Medusa Queen is available. The number of units in one hand is limited.

The dwarf leader counts on the success of this operation, and therefore for every third victory fragments of the Imperial dagger will be issued from his personal reserves (but not more than 10):





All Lords and Ladies who have won a 15th-level enemy squad will receive a special achievement in character information. Additional awards not listed in this news will not appear.

Reward for all Lords and Ladies of leading battle clans:


| | | |
| --- | --- | --- |
| Clan location | Reward | Battle glory |
| 1 | 10 | 1,500 |
| 2 | 9 | 1,300 |
| 3 | 9 | 1,100 |
| 4 | 8 | 1,000 |
| 5 - 7 | 7 | 900 |
| 8 - 10 | 6 | 800 |
| 11 - 15 | 5 | 600 |
| 16 - 20 | 4 | 500 |
| 21 - 30 | 3 | 400 |
| 31 - 40 | 2 | 250 |
| 41 - 50 | 1 | 100 |
Have more victories and enjoy your time! Hooray!