New Year's holidays are over and it's time to get back onto the battlefield. But there are not many people ready to taste the indestructible power of the imperial war machine. It is time to strike a preemptive blow to the enemy, which is still licking its wounds from the last face-to-face meeting - the remnants of the pirate flotilla. At the same time, giving the Fire Dwarves the opportunity to further prove their loyalty to the Empire in battle with their recent ally. There are still few doubts about it, since it is not easy to forget past sins. But they are washed away perfectly with the blood of the enemy.

Brave Heroes! Prepare your ships, load your guns and raise your sails - it's time to hunt some sea pirates!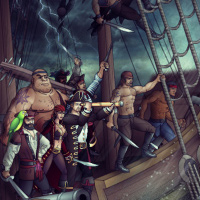 Battle instructions:
1) A personal ship is waiting for every player of CL 5+.
2) You start with a 50% ship capacity, which shows how much of your army you can bring into battle, and how much damage your character's spells inflict.
3) Combat is staged in a format featuring two player-controlled ships against one Pirate ship.
4) You are promoted in rank for winning battles, and demoted for losing.
5) In every battle, you earn silver depending on the outcome and on your rank.
6) Imperial workshops accept silver as payment for adding cannons to your ships or increasing your ship's capacity.
7) Cannon parameters depend on your combat level, and can be upgraded.
8) The higher your rank, the stronger your pirate opponent.
9) Upon reaching the rank of "Captain", each victorious battle will be additionally rewarded with battle potions that can be transferred, sold on the market or used to gain a 24-hour bonus;











10) To prevent pirates from capturing any valuable elements, modifications have NO effect in these battles - You may equip only artifacts from the Artifact shop.
11) You are given up to 10 pirate hunt attempts per day. Any unused attempts carry over to the next day(s).
12) The Pirate Hunt will last 8 days, through January 18th. Three additional days will be available, through January 21st, to use up any remaining attempts.
13) For each victory over a pirate you may win Mercenaries' Guild points and creature armaments.
14) As many pirates have taken to slave-trading, you may encounter cages aboard their ships, which can only be destroyed with spells or in melee. When someone (possibly the Pirate himself) destroys the cage, the captives are freed and join that character's army. Having freed a creature stack this way, you may field it in one or more subsequent fights.
15) The Empire will generously reward Lords and Ladies who collect the most silver.

The accomplishments of each Lord and Lady will be further recognized with dark artifact parts:





For 10 victories: +1 parts;
For 20 victories: +3 parts;
For 30 victories: +4 parts;
For 40 victories: +5 parts;
For 60 victories: +8 parts.

You may also receive up to 30 parts depending on your personal contribution to this war effort.

Successful military clans and their distinguished Lords/Ladies will be especially rewarded. Rewarding will be based on the final clan ranking, where the final result will be equal to the amount of silver earned in clan battles.
- Unblocked Lords and Ladies of successful military clans will receive a clan reward if they bring the clan 400 points or more.
- If a Lord or Lady leaves/is evicted from a military clan, the clan loses all points scored by the Lord/Lady for this clan; upon re-joining the points will be restored.
- It is prohibited to leave a clan on the last day of the event.
- Admission to military clans is limited up to 3 Heroes per day.



Reward for active Heroes of leading battle clans:




| | | |
| --- | --- | --- |
| Clan seat | An award | Glory |
| 1 | 10 | 1,500 |
| 2 | 9 | 1,300 |
| 3 | 9 | 1,100 |
| 4 | 8 | 1,000 |
| 5 - 7 | 7 | 900 |
| 8 - 10 | 6 | 800 |
| 11 - 15 | 5 | 600 |
| 16 - 20 | 4 | 500 |
| 21 - 30 | 3 | 400 |
| 31 - 40 | 2 | 250 |
| 41 - 50 | 1 | 100 |
Have a jolly time hunting!