| | |
| --- | --- |
| Lady Takesister [12] | |

Family: gurumao (mom), Zyanya (daughter), Eclipse (daughter), Ahrami (grandson)

Write a message
Character went offline at 14:05, 2012-10-09
» Combat level: 12 (5,833,639) +2,666,361

» Troops ready: 100%
» Mana: 90 / 90
» Location: Empire Capital





Statistics
Transfer log [>>]
Combat log [>>]
Game log [>>]
Roulette bets total: 124,418
Roulette winnings total: 105,186


| | |
| --- | --- |
| Combats fought: | 5,180 |
| Victories: | 4,022 |
| Defeats: | 1,158 |

Games played:
294
Victories:
133

| | |
| --- | --- |
| | 1,710 |

Defeats:
161

| | |
| --- | --- |
| | 2,480 |
Resources
Skills
Talents
Abrasive: 64
Fern flower: 11
Fire crystal: 28
Ice crystal: 29
Meteorite shard: 3
Moonstone: 40
Tiger`s claw: 15
Toadstool: 12
Viper venom: 23
Windflower: 24
Witch bloom: 45

Knight: 0 (0.00) +20.0
Necromancer: 8 (2427.88) +472.1
Wizard: 0 (0.48) +19.5
Elf: 0 (0.00) +20.0
Barbarian: 0 (0.00) +20.0
Dark elf: 0 (0.00) +20.0
Demon: 0 (11.56) +8.4
Dwarf: 0 (0.00) +20.0
Tribal: 0 (0.00) +20.0
Pharaoh: 0 (0.00) +20.0

Hunters' guild: 6 (1692.70) +307.3
Laborers' guild: 7 (6652) +1348
Gamblers' guild: 4 (133) +17
Thieves' guild: 2 (165) +75
Rangers' guild: 0 (0)
Mercenaries' guild: 6 (1500) +700
Commanders' guild: 0 (7.00) +143.0
Watchers' guild: 0 (0.0)
Adventurers' guild: 0 (0) +1600
Leaders' Guild: 0 (0) +80.0
Smiths' guild: 0 (4.96) +25.0

Enchanters' guild: 3 (3459) +3541 (

+

)
Personal info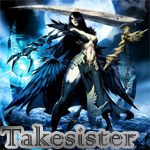 Main: Takesister Multi: HermionePotter

I'm Singaporean, working and don't want people here to know my true age. Just take it I'm old enough, but not too old
I will always try to remember to give half of the gold received in a successful Hunt Assist.

If you want to check out the Russian server, kindly use my Reference Link: http://www.heroeswm.ru/?rid=1072334

==============
TS Enchanting shop
None

For each
* 1% earth: Meteorite Shard + Toadstool
* 1% air: Windflower + Witch's Bloom
* 1% water: Ice Crystal + Viper Venom
* 1% fire : Fire Crystal + Tiger's Claw
* 1% ignore: Moonstone + Abrasive

I do 4x10% weapon enchantments, your friendly neighbourhood enchanter.