Estates allow storing artifacts, increasing the restoration speed
(RS)
of troops ready and mana to the owner and temporary inhabitants called guests. Estates initially have room for 10 artifacts and increase RS by 10%. Any estate may be upgraded by adding certain annexes.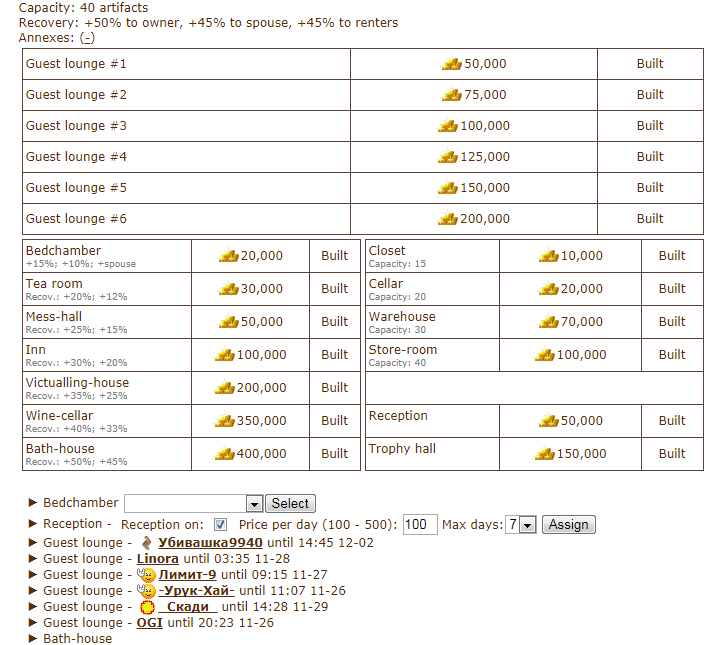 I. Restoration annexes.
Bedchamber. 20,000 gold. RS: Owner +15%, guests +10%.
Allows to house a spouse.

Tea room. 30,000 gold. RS: Owner +20%, guests +12%.
Mess-hall. 50,000 gold. RS: Owner +25%, guests +15%.
Inn. 100,000 gold. RS: Owner +30%, guests +20%.
Victualling-house. 200,000 gold. RS: Owner +35%, guests +25%.
Wine-cellar. 350,000 gold. RS: Owner +40%, guests +33%.
Bath-house. 400,000 gold. RS: Owner +50%, guests +45%.
SPA-house. 450,000 gold. RS: Owner +60%, guests +55%.

II. Storage annexes.

Closet. 10,000 gold. Total storage room of 15 items.
Cellar. 20,000 gold. Total storage room of 20 items.
Warehouse. 70,000 gold. Total storage room of 30 items.
Store-room. 100,000 gold. Total storage room of 40 items.
Armory. 150,000 gold. Total storage room of 60 items.

III. Guest lounges.
The owner of the Estates may house someone into a lounge or rent it out to other lords to increase their troops ready and mana restoration speed. The fee is withdrawn immediately at check-in for the full term of stay. It is not possible to evict the guest.

Guest lounge #1. 50,000 gold.

Guest lounge #2. 75,000 gold.

Guest lounge #3. 100,000 gold.

Guest lounge #4. 125,000 gold.

Guest lounge #5. 150,000 gold.

Guest lounge #6. 200,000 gold.

Reception. 50,000 gold. Allows automatizing the process of lounge rent. The cost will be limited by 100 to 500 gold.

IV. Trophy hall.

Allows displaying selected items from the storage for public review. 150,000 gold.

Estate restoration speed bonus will only have effect if the lord is present in the location of the estate he or she is housed in. Effects of several estates are redundant, the restoration speed will be increased by the maximal RS value of any estate the lord is residing in, situated in the location the lord is currently visiting. Withdrawing and depositing artifacts is also available exclusively in the estate location.

Every estate has a rank depending on built annexes. Maximal rank is 6 stars. Estates are sorted by rank in the Public services section of the map.

Warning. Before acquiring and managing estates, make sure you have read and understood the game rules.



---
Available to military clans, Depositories can be used to store items and set automatic rents and repairs.



A depository can be purchased by the military clan leader or deputy at the "Clan Registration" page.
Initially, the warehouse can hold up to 50 items, but its capacity can be increased.

Access to the depository

Initially, the depository is only accessible at the capital.
For access from other places, the head or deputy must upgrade the depository by opening an office in the needed locations.
Clan leader, deputy, treasurer and storekeeper have access to the depository settings.
Clan leader, deputy, treasurer and storekeeper may place and withdraw items from the depository.
Clan leader, deputy and treasurer may access the depository account. Gold can be moved between the military clan treasury and depository account.
Any clan member has access to rent artifacts / sets that meet his or her combat level and his or her access level at the depository.
Lords who are not members of the clan have no access to its depository.

Depository artifact rent

Initially, artifacts placed in the depository are not leased. That function must be enabled by one of the managers.
Artifacts can be assembled and leased as sets.
Artifacts / sets are available for rent once the level of access and the price for 1 combat are set.
Artifacts are leased under time limitation of 2 hours per combat.
Artifact leasing is taxed by Empire at 1%.
Gold for unused combats is returned, the tax is forfeit.
Until an artifact / set is returned from the lease, the gold earned from that lease is frozen at depository account and cannot be used.
Clan members cannot rent two artifacts for the same slot at the same time (with the exception of rings).
Periodically, the depository will automatically attempt to retrieve leased artifacts when the lease has expired.