Rage is certainly a powerful emotion but when it dies down, sister sadness fills the emptiness formed inside. It can seem not so dangerous at first sight and even harmless to some extent, but thatís where its true power lies. If you underestimate its cunning just for one moment Ė it will consume everything on its way.

Troubled thoughts couldnít leave Abu-Bekr's mind while he was examining protective runes on the ice block surface where his daughter Asma had been imprisoned. Their force, hardly noticeably but gradually, was weakening. Despite all the efforts of ghosts if this continues, sooner or later the half-demon enchantress will be able to escape from ice embraces of her prison. Unless by this time another solution is found... Having gotten over doubt, Abu-Bekr hesitantly extended his hand forward and touched the ice surface with its palm. At that very moment his mind rushed far to the north over boundless lands of the Empire, to ancient ruins in the desert valley among which there was standing out the survived pyramid. Its very halls attracted magicianís mind. On the outside it resembled the pyramid over Tomb of the Sun, but on the inside it was smaller and the walls of internal halls were decorated with different symbols and frescos. Without a doubt, it was Tomb of the Moon Ė the night guard of the God of Sun. This is where the embodiment of Asmaís sorrow has found its shelter. Peace of the dead has been violated and they rose on the call of ancient curse to manage sacred court. Suddenly the vision broke and Abu-Bekr's consciousness returned to his body, having brought with itself a disturbing message which all Empire urgently had to learn about!

Lords and Ladies, the court magician Abu-Bekr reports the approaching threat! The ancient curse wonít give in that easily and is looking for new ways to break free. This time it awakened the guardians of the Sun Cult in the halls of Tomb of the Moon. But itís impossible to strike with all forces, this embodiment of damnation is needed to be managed with minimal losses Ė with forces of followers from Leaders Guild!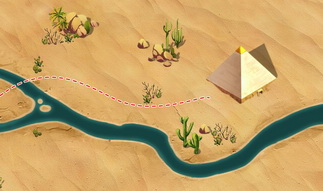 Combat instructions:
- All heroes of the 5th combat level or above are allowed to take part in these fights.
- Only units from Leadersí Guild reserve can be used.
- Limits on units and stack sizes are based on Leaders' Guild level.
- Battles do not involve the hero. As a result, artifacts and talents have no effect, and artifacts do not lose durability. Auto-play can be enabled after troop settlement.
- Heroes do not gain experience or faction skill points.
- There are 30 main and 20 additional levels. The composition and number of enemy units at each level will be the same for every hero.
- Victory at each level grants a valuable reward which depends on the level.
- On day one, only 10 levels of difficulty are unlocked. 10 more levels will be unlocked every subsequent day.
- Heroes of successful military clans who distinguish themselves will be given special rewards. Rewards will be based on the overall clan ranking. Clan ranking will be based on overall score which is the sum of each clan memberís score. Each heroís score is equal to the sum of the levels which the hero has been victorious in (for example, victories at levels 1, 2 and 3 grant a hero 1+2+3=6 points). Victories at additional levels count as well.
- Clan membersí score will contribute towards the clan score if they contribute at least 15 points to the clan, and they are member of the clan at the time of victory.
- If the hero is evicted or leaves his military clan, the clan would lose his contribution to the score. If the same member rejoins, the lost points will be returned.
- This event will last 7 days. May 2nd will be the last day.

[Information] For those who join/change/plan to change their battle clan during the event, battles for which points were not added to clan score will have to be replayed to contribute the corresponding points towards the clan. The reward for previously completed levels will not be given again. The "Reset" button will appear for those heroes who have not contributed the maximum possible clan points.

Moreover, Warlord Grammith has announced support by provisioning both common and uncommon stacks of followers which all heroes can have the option of leading in exchange for gold. Heroes also have a one-time option to lead Turncoat Warmages, Trashers, Giant Spiders and Trolls.

Empire is counting on its brave heroes for the success of this operation. Hence, every third win will grant 1 part of an Imperial Ring. No more than 10 parts will be given cumulatively.



All heroes who are victorious at level 15 will receive a special achievement visible on their profile.



Reward for heroes of leading combat clans:


| | | |
| --- | --- | --- |
| Clan place | Reward | Battle glory |
| 1 | 10 | 1,500 |
| 2 | 9 | 1,300 |
| 3 | 9 | 1,100 |
| 4 | 8 | 1,000 |
| 5 - 7 | 7 | 900 |
| 8 - 10 | 6 | 800 |
| 11 - 15 | 5 | 600 |
| 16 - 20 | 4 | 500 |
| 21 - 30 | 3 | 400 |
| 31 - 40 | 2 | 250 |
| 41 - 50 | 1 | 100 |
May you bring glory to Empire!