The logical consequence of a glorious victory is often a time of long-awaited rest, full of retelling of frontline stories and bragging about well-deserved awards. But while the Lords and Ladies enjoyed a moment of peace, along the way, waiting for news of the results of negotiations with the Pharaohs, the imperial intelligence did not think to let the guards down. Sitting on the tail of the survivors of the robber army in the Northern Desert, the agents of Councilor Feurlis disappeared from the Spider's field of vision for some time, but soon the threads of his web twitched again. Despite the defeat that the bandits suffered with the Eclipse Pharaohs, they still managed to take out enough plundered treasures that the so-called "big deal" could be considered successful. And as the general drinking party in their hide-out began to fade away, a small group of badmen went to a strange mechanical building that was discovered near the Empireís borders. Whatever the enemy was up to - it was clearly something unkind. And the Councilor Feurlis wanted to find out at any cost what was really behind all this.

Lords and Ladies, fearless leaders! Imperial Intelligence reports a mysterious mechanical structure seen near our borders, as well as suspicious robbers activity in the localities. Therefore, Councilor Feurlis is preparing a secret raid on the discovered object, and asks to provide his agents with covering force in the form of small strike troops, consisting of followers of the Leadersí Guild.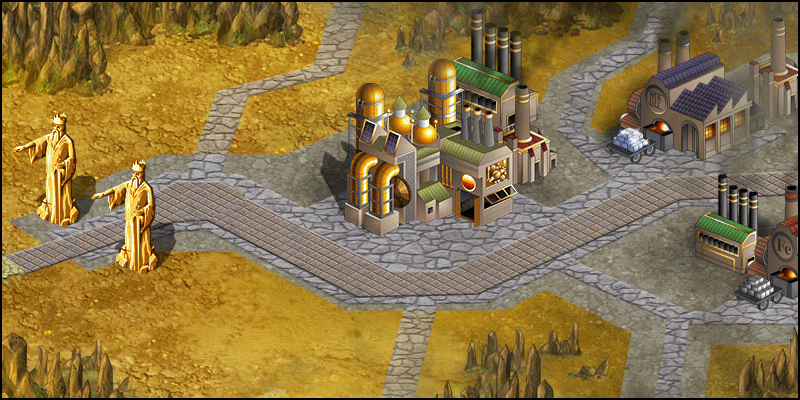 Combat briefing:
- All Lords and Ladies from the 5th combat level or above are allowed to take part in the secret raid.
- Only creatures from the Leaders' Guild reserve can be used.
- Limits on creatures and stack sizes are based on Leaders' Guild level.
- Battles do not involve the Lord or Lady. As a result, artifacts and talents have no effect, and artifacts do not lose durability. Auto-play can be enabled after troop settlement.
- Lords or Ladies do not gain experience or faction skill points.
- In total, 50 main difficulty levels of enemy troops are available, divided into two stages: cleaning the surroundings from robbers and confronting the guards of a mysterious building;.
- There will also be 10 additional difficulty levels available with enhanced enemy troops and minor rewards;
- Composition and strength of the enemy troops in each level are the same for all Lords and Ladies;
- Victory at each level grants a valuable reward which depends on the level.
- On day one, only 10 levels of difficulty are unlocked. 10 more levels will be unlocked every subsequent day.
- Lords or Ladies of successful military clans who distinguish themselves will be given special rewards. Rewards will be based on the overall clan ranking. Clan ranking will be based on overall score which is the sum of each clan memberís score. Each Lordís score is equal to the sum of the levels which the Lord or Lady has been victorious in (for example, victories at levels 1, 2 and 3 grant a hero 1+2+3=6 points). Victories at additional levels count as well.
- All unblocked Lords and Ladies of successful military clans will receive a reward if they brought the clan at least 15 points;
- If the Lord or Lady is evicted or leaves his military clan, the clan would lose his contribution to the score. If the same member rejoins, the lost points will be returned.
- You canít leave the clan on the last day of the event;
- The invitations to the military clans is limited Ė up to 3 Lords or Ladies per day.
- The event will last 9 days until August 26 inclusive.

[Information] For those who join/change/plan to change their military clan during the event, battles for which points were not added to clan score will have to be replayed to contribute the corresponding points towards the clan. The reward for previously completed levels will not be given again. The "Reset" button will appear for those Lords or Ladies who have not contributed the maximum possible clan points.

Moreover, Warlord Grammith has announced support by provisioning both common and uncommon creatures which all Lords or Ladies can have the option of leading in exchange for gold.
Lords and Ladies also have a one-time option to lead Lizard assailants, Skeletal corsairs, Raiding harpies, Giant archers, Sea witches and Elite crossbowmen.

Taking into account all the risks of the planned raid, Councilor Feurlis is ready to compensate the spent efforts by issuing fragments of the Imperial helmet (up to 20 parts) and Dark ring for victories (up to 20 parts):



All Lords and Ladies who are victorious at level 15 will receive a special achievement visible on their profile. There will be no additional rewards not listed in this news.



Reward for Lords and Ladies of leading military clans:




| | | |
| --- | --- | --- |
| Clan rank | Reward | Battle glory |
| 1 | 10 | 1,500 |
| 2 | 9 | 1,300 |
| 3 | 9 | 1,100 |
| 4 | 8 | 1,000 |
| 5 - 7 | 7 | 900 |
| 8 - 10 | 6 | 800 |
| 11 - 15 | 5 | 600 |
| 16 - 20 | 4 | 500 |
| 21 - 30 | 3 | 400 |
| 31 - 40 | 2 | 250 |
| 41 - 50 | 1 | 100 |
More victories!