The Pirates had barely said goodbye to their temporary captains from the mainland when the most interesting part of the raid, the sharing of spoils, came up. And while some honoured this action as a sacred ritual, others had recently grown bolder in questioning long-established traditions.
- Ha! What a haul! - the coastal raider muttered with a contented grin on his face as he glanced up the crates overflowing with loot - A couple more of these raids and we could settle down on our own island somewhere safe!
- Rookie… - the filibuster snickered dismissively to himself, counting the chests - You've obviously never been under Roger. Subtract Redbeard's share, divide it among our brothers and you can drop anchor for a few stormy nights in the nearest port.
- But how would he, sitting in his fortress, know what the catch really was? - the raider asked with a sneaky wink.
- You're a brave fella, aren't you? -The veteran pirate gunslinger gave the daredevil a stern look and then suddenly grinned sly - You do that. Bring the loot back to the fortress, and make sure that all... Seven?.. - he suddenly fell silent, without averting his gaze.
- Five, - the raider immediately specified.
- …Five chests were delivered safe and sound, - the filibuster was about to leave, passing the young pirate, but he paused at his side and added softly - Dump the excess on an island nearby. And be careful not to end up walking the plank…

Attention! Lords and Ladies! Coast guards announce that the pirate's threat has been neutralized. Their ships left the territorial waters of the Empire. Trade routes are safe again!!

Soon enough, every Lord and Lady who struck a bargain with the pirates and succeeded in scouring the Empire's waters will soon receive Captain Redbeard's promised gifts, along with a small message:

"Bye thunder, captain! I never cease to marvel at you land rats. Thank you for walking those whining dogs. And though the catch is not rich, I do owe you a chest of gold, as promised, commensurate with the level of fun I've had. And then there's the odd bits of another heavenly gem - the last of them, I think, that's making me feel uncomfortable. And of course, a little present from my personal collection to make this raid one to remember for a long time!"
- Captain Red Beard.

All Lords and Ladies who have looted even a little silver, can receive a generous reward in gold! The reward depends on the amount of silver you've looted and your combat level. Gold is issued on the Pirate raids event page.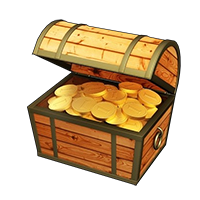 All Lords and Ladies who have plundered at least 4,200 silver , were rewarded with parts of the Heaven dagger from 1 to 10 pcs. The number of parts depends on the amount of silver looted.





All Lords and Ladies who have plundered at least 4,000 silver, were rewarded with unique artifacts from the Ocean set. The artifact's durability depends on the amount of plundered silver.







Pirates also celebrate the top 75 military clans. Just rewards, as well as the loyalty of new followers, await all those who earned 4000 points or more for their clan:




Clan rank
Reward
Glory
1
1,500
2
1,300
3
1,100
4
1,000
5 - 8
900
9 - 13
800

| | | | |
| --- | --- | --- | --- |
| 9. | #7490 | European Foreign Legion | 3,648,018 |
| 10. | #823 | Ginger Tail | 3,646,886 |
| 11. | #997 | Бастион Доблести | 3,632,557 |
| 12. | #1597 | Гвардия Солнца | 3,604,794 |
| 13. | #249 | Белая Русь | 3,576,473 |

14 - 20
600

| | | | |
| --- | --- | --- | --- |
| 14. | #5169 | Белые волки | 3,573,753 |
| 15. | #18 | †Орден Миротворцев† | 3,509,116 |
| 16. | #17 | Авалон | 3,427,693 |
| 17. | #14 | Братство Стали | 3,388,810 |
| 18. | #933 | Warriors | 3,272,930 |
| 19. | #5152 | †Огненные рубежи† | 3,251,537 |
| 20. | #73 | Орден Джедаев | 3,232,281 |

21 - 30
500

| | | | |
| --- | --- | --- | --- |
| 21. | #2517 | The Dedicated Fighters | 3,227,856 |
| 22. | #57 | Тридевятое королевство | 3,226,445 |
| 23. | #276 | Молот Ведьм | 3,195,363 |
| 24. | #1512 | † Nekropolis † | 3,175,031 |
| 25. | #302 | Орден Единых | 3,125,464 |
| 26. | #9426 | Орден Рыцарей - меченосцев | 3,009,385 |
| 27. | #1488 | Тёмная лига Некромантов | 2,946,001 |
| 28. | #3695 | Бездельники | 2,865,656 |
| 29. | #5063 | Midgard | 2,837,195 |
| 30. | #846 | †Академия Миротворцев† | 2,810,341 |

31 - 45
400

| | | | |
| --- | --- | --- | --- |
| 31. | #2303 | III legion of Elfius | 2,785,890 |
| 32. | #5722 | Галерея Теней | 2,754,664 |
| 33. | #10721 | Стальной Дозор | 2,697,342 |
| 34. | #2230 | Агенты Хаоса | 2,664,731 |
| 35. | #1271 | Братство Героев | 2,641,377 |
| 36. | #10886 | Гиперборея 1685 | 2,598,429 |
| 37. | #1317 | Запорожская Сечь | 2,561,294 |
| 38. | #2304 | IV legion of Elfius | 2,528,202 |
| 39. | #728 | Улей | 2,426,526 |
| 40. | #2735 | Ангелы смерти | 2,243,985 |
| 41. | #3305 | Украина. Величие Запада | 2,134,542 |
| 42. | #3975 | Степное Братство | 2,098,586 |
| 43. | #1787 | Scorpion | 1,921,446 |
| 44. | #346 | Свои | 1,921,426 |
| 45. | #1790 | Орден "Клинок теней". | 1,909,847 |

46 - 60
250

| | | | |
| --- | --- | --- | --- |
| 46. | #10557 | Dracarys | 1,838,233 |
| 47. | #15 | Destiny | 1,669,131 |
| 48. | #326 | Герои Уничтоженных Империй | 1,615,299 |
| 49. | #414 | Утёс Кастерли | 1,556,014 |
| 50. | #7705 | † Angels & Demons ? | 1,451,777 |
| 51. | #493 | Говорящие с Ветром | 1,352,070 |
| 52. | #4260 | Легион Ордена Тамплиеров | 1,231,123 |
| 53. | #8026 | ‹ Три Богатыря › | 1,178,834 |
| 54. | #2902 | Воительницы - Амазонки | 1,125,037 |
| 55. | #8433 | _Чудная Долина_ | 1,089,891 |
| 56. | #644 | Гвардия Grail Keepers | 1,071,302 |
| 57. | #10877 | Warsong Outriders | 1,034,786 |
| 58. | #361 | Flock | 1,027,629 |
| 59. | #2213 | Сварожичи | 1,006,041 |
| 60. | #522 | Властители семи ветров | 937,478 |

61 - 75
100

| | | | |
| --- | --- | --- | --- |
| 61. | #407 | Asgard | 929,308 |
| 62. | #9595 | Immortal Dynasty | 880,454 |
| 63. | #1712 | -Пылающий Легион- | 854,264 |
| 64. | #3346 | Радуга | 852,250 |
| 65. | #1180 | Паутина | 843,666 |
| 66. | #10592 | Foot Clan | 811,309 |
| 67. | #11093 | Warming hellfire | 725,555 |
| 68. | #8212 | Воины Ктулху | 688,031 |
| 69. | #5625 | Брестская Крепость | 682,953 |
| 70. | #3303 | Украина. Ярость Севера | 645,467 |
| 71. | #464 | Белая Гвардия | 631,758 |
| 72. | #9775 | Школа Волка | 629,819 |
| 73. | #1254 | Миракулюс | 557,715 |
| 74. | #9681 | Moldova | 548,841 |
| 75. | #825 | Matrix of Worlds | 541,092 |
In addition, thanks to the best 5,000 captains who have plundered the highest amount of silver! This feat will certainly attract even more glorious warriors to the ranks of your followers
The names of the top pirate captains will forever go down in history and become legends of all seas and oceans:
| | | | | |
| --- | --- | --- | --- | --- |
| 1. | Бомбилово [11] | 126 | 84 | 59,688 |
| 2. | Elen_Miledy [11] | 107 | 84 | 59,680 |
| 3. | Martian1378 [12] | 113 | 84 | 58,732 |
| 4. | Asturika [12] | 122 | 84 | 58,509 |
| 5. | Matiriolo [11] | 122 | 84 | 57,277 |
| 6. | Шляпа гномья [10] | 123 | 84 | 56,044 |
| 7. | Gromvel [12] | 123 | 84 | 55,312 |
| 8. | Милань [14] | 122 | 84 | 54,659 |
| 9. | WotMultieri [9] | 124 | 84 | 54,626 |
| 10. | Daeve [13] | 125 | 84 | 54,087 |
| 11. | SAGAJDATCHNYY [9] | 126 | 84 | 53,988 |
| 12. | a_yakovin [15] | 109 | 84 | 53,746 |
| 13. | tttindek [11] | 126 | 84 | 53,497 |
| 14. | Йассунау [17] | 124 | 84 | 53,400 |
| 15. | -x-lider- [13] | 125 | 84 | 53,279 |
| 16. | люблю деньги [10] | 112 | 84 | 53,154 |
| 17. | NightScorpion98 [16] | 117 | 84 | 53,031 |
| 18. | Воля Мертвых [11] | 113 | 84 | 52,776 |
| 19. | _Hervind_ [15] | 120 | 84 | 52,672 |
| 20. | Положенец [16] | 126 | 84 | 52,670 |
| 21. | labangiul5 [16] | 123 | 84 | 52,584 |
| 22. | MaitoGai [15] | 117 | 84 | 52,213 |
| 23. | КоТёНоЧеГгГ [15] | 124 | 84 | 52,111 |
| 24. | WarDancerani [14] | 126 | 82 | 52,023 |
| 25. | _SeigfriD_ [16] | 120 | 84 | 51,916 |
| 26. | Sulmeldis [12] | 124 | 84 | 51,899 |
| 27. | Bobyk [14] | 117 | 84 | 51,703 |
| 28. | Верховний-Волхв [15] | 126 | 84 | 51,635 |
| 29. | Экспофоб [16] | 119 | 84 | 51,616 |
| 30. | рыбкин [15] | 103 | 84 | 51,558 |
| 31. | Амбассадор [10] | 122 | 84 | 51,471 |
| 32. | Mi4man [11] | 100 | 84 | 51,470 |
| 33. | Мищь [16] | 121 | 84 | 51,450 |
| 34. | RagnarOnWaR [16] | 123 | 84 | 51,152 |
| 35. | IZI_FOR_HARDIZI [15] | 117 | 84 | 50,924 |
| 36. | Неадекват-_- [15] | 125 | 84 | 50,640 |
| 37. | 4MATIC [12] | 121 | 84 | 50,544 |
| 38. | Similar [17] | 117 | 84 | 50,526 |
| 39. | NervoZa [7] | 120 | 84 | 50,480 |
| 40. | asariec [16] | 124 | 84 | 50,479 |
| 41. | Гармингольд [17] | 115 | 84 | 50,451 |
| 42. | JaponaLady [16] | 108 | 84 | 50,440 |
| 43. | _zloba [16] | 118 | 84 | 50,390 |
| 44. | VsMoon [16] | 116 | 84 | 50,377 |
| 45. | mashrooms55 [14] | 116 | 84 | 50,288 |
| 46. | Lord Ragnaros [19] | 125 | 84 | 50,287 |
| 47. | _СЕРЫЙ_ВОЛЧАРА_ [21] | 117 | 84 | 50,198 |
| 48. | Avaro [19] | 123 | 84 | 50,163 |
| 49. | Fall1n [17] | 125 | 84 | 50,099 |
| 50. | shponish [15] | 115 | 84 | 50,093 |
| 51. | Пирожок_ [9] | 106 | 84 | 50,051 |
| 52. | Quasi-Stellar [17] | 122 | 84 | 50,038 |
| 53. | Глашка [21] | 121 | 84 | 50,000 |
| 54. | Jack Daniels [16] | 125 | 84 | 49,937 |
| 55. | peln [21] | 126 | 84 | 49,798 |
| 56. | МельмотСкиталец [21] | 121 | 84 | 49,679 |
| 57. | Воскресшый [15] | 125 | 84 | 49,643 |
| 58. | Жена_Убийцы [16] | 124 | 84 | 49,637 |
| 59. | Parikas White [12] | 111 | 84 | 49,616 |
| 60. | FCLiverpool [17] | 115 | 84 | 49,458 |
| 61. | НастяКиллеррр [13] | 125 | 84 | 49,417 |
| 62. | LionSN [21] | 116 | 84 | 49,389 |
| 63. | Sage Jiraiya [16] | 110 | 84 | 49,389 |
| 64. | Star24 [17] | 123 | 84 | 49,383 |
| 65. | krovak [18] | 125 | 84 | 49,292 |
| 66. | Benilux [18] | 124 | 84 | 49,285 |
| 67. | ion2013 [19] | 125 | 84 | 49,198 |
| 68. | Shki5er [18] | 118 | 84 | 49,188 |
| 69. | The moon light [14] | 107 | 84 | 49,161 |
| 70. | Аид__ [12] | 124 | 84 | 49,149 |
| 71. | Сунь Цзы [19] | 125 | 84 | 49,073 |
| 72. | _Антиквар_ [16] | 117 | 84 | 49,068 |
| 73. | GOODZINI [13] | 114 | 84 | 48,943 |
| 74. | slayerofall [17] | 124 | 84 | 48,841 |
| 75. | Elgernon [11] | 102 | 84 | 48,714 |
| 76. | Нириус [20] | 125 | 84 | 48,640 |
| 77. | Misantrophe [15] | 120 | 84 | 48,636 |
| 78. | de Valios [15] | 126 | 83 | 48,558 |
| 79. | Hekat [17] | 119 | 84 | 48,555 |
| 80. | ZandragaD [16] | 125 | 84 | 48,545 |
| 81. | not-_-again [17] | 126 | 84 | 48,512 |
| 82. | Stewolf [10] | 119 | 84 | 48,484 |
| 83. | Oxytocin [14] | 101 | 84 | 48,452 |
| 84. | Толкинист [18] | 110 | 84 | 48,448 |
| 85. | Добытчик [13] | 108 | 84 | 48,428 |
| 86. | Dramiel [19] | 114 | 84 | 48,427 |
| 87. | z_j_cd [19] | 117 | 84 | 48,390 |
| 88. | b0ob0bovic [13] | 120 | 84 | 48,367 |
| 89. | вася м [17] | 122 | 84 | 48,357 |
| 90. | Shinshilla [15] | 112 | 84 | 48,339 |
| 91. | -Dendimon- [16] | 114 | 84 | 48,338 |
| 92. | Fox-Russia [16] | 124 | 84 | 48,235 |
| 93. | Альдарон [11] | 111 | 84 | 48,226 |
| 94. | Akatsukl [16] | 125 | 84 | 48,173 |
| 95. | Tactic Man [19] | 121 | 84 | 48,067 |
| 96. | Фиркаг-некр [15] | 112 | 84 | 48,066 |
| 97. | Despair911 [9] | 124 | 84 | 48,043 |
| 98. | G N O M I K [16] | 126 | 83 | 48,027 |
| 99. | Паразониум [20] | 121 | 84 | 48,026 |
| 100. | simclup [13] | 109 | 84 | 48,004 |