Family: Lady Laitha (wife), Lord Syrian (daddy), Angela1908 (daughter), DragonEater (son), MrBattleControl (son), Roksan (twinnie), Arctic (nephew)

Write a message
Character went offline at 01:16, 2020-08-14
» Combat level: 19 (177,143,319) +52,856,681

» Troops ready: 100%
» Mana: 0 / 0
» Location: Fishing Village





Statistics
Transfer log [>>]
Combat log [>>]
Game log [>>]
Real estate list [>>]
Roulette bets total: 5,832,661
Roulette winnings total: 6,324,196


| | |
| --- | --- |
| Combats fought: | 28,405 |
| Victories: | 22,718 |
| Defeats: | 5,687 |

Games played:
1
Victories:
1
Defeats:
0
Resources
Skills
Talents
Abrasive: 1
Fern flower: 39
Fire crystal: 5
Ice crystal: 32
Meteorite shard: 20
Moonstone: 19
Tiger`s claw: 45
Toadstool: 43
Viper venom: 44
Witch bloom: 31

Knight: 12 (19000.15) +15999.8
Necromancer: 10 (5415.20) +4184.8
Wizard: 9 (3086.84) +2213.2
Elf: 11 (10129.06) +7170.9
Barbarian: 9 (4061.51) +1238.5
Dark elf: 10 (5327.66) +4272.3
Demon: 9 (2927.78) +2372.2
Dwarf: 12 (21919.48) +13080.5
Tribal: 9 (4010.67) +1289.3

Hunters' guild: 8 (4139.71) +160.3
Laborers' guild: 9 (14271) +2729
Gamblers' guild: 0 (1) +9
Thieves' guild: 8 (2203.5) +796.5
Rangers' guild: 0 (1)
Mercenaries' guild: 9 (4603.2) +896.8
Commanders' guild: 1 (279.20) +70.8
Watchers' guild: 3 (679.9) +170.1
Adventurers' guild: 1 (2682) +918
Leaders' Guild: 10 (2430.7) +769.3
Smiths' guild: 9 (13103.75)

Enchanters' guild: 5 (22638) (

+

)
Best stacks in the Leaders' Guild
Achievements
| | | | | | | | | | | | | | | | |
| --- | --- | --- | --- | --- | --- | --- | --- | --- | --- | --- | --- | --- | --- | --- | --- |
| 1 | 3 | 1 | 1 | 1 | 2 | 8 | 1 | 23 | 1 | 1 | 2 | 2 | 11 | 2 | 11 |

1
Personal info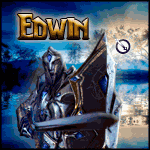 S_C_F_ is my second char
Edwin1978 is my 3th char

Lady Laitha is my girlfriend so our IP address is the same :)
Angela1908 is my daughter so we have the same IP address
Skype name edwinknikman

Clan members DO NOT accept complaints on unfair penalties and aren't obliged to explain their actions to players.
Clan members DO NOT accept complaints in PM.


I can log in from every where because i travel a lott for my work even to other country's
I also log in from my mobile phone

Smith: 90% for 100% cost +1 gold (EFL members pay 105%)
Weapon enchanter 5x12%
Armor enchanter 5x22%
Jewelry enchanter 5x20% (100 gold back for each ellement used)

And thnx for using my service :)
in the weekends i will repair lesser got a real life as well ;)


Any faction can be the best; BUT definitely not the one you are playing now. ©

I speak only english i am from the Netherlands : )

TG1 Amulet : )
TG2 Mask
TG3 Ring
TG4 Ring
TG5 Cloak
TG6 Cloak
TG7 Ring
TG8 Plunder harnes

As finishing touch God created the Dutch!

08/20/09 00:56: Joined. Faction: Knight .